You are here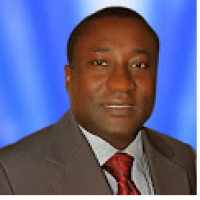 Dr Okechukwu Ogah
Speciality/Area of Interest:
Cardiologist
Degrees:
MBBS MBBS, MSc, PhD, FWACP, FACP, FESC.
Experience:
28 years 11 months
Place of Work:
UCH Ibadan Ibadan Oyo
Institution Attended: University of Ibadan
Bio
Dr. Okechukwu Ogah is a Consultant Physician/Cardiologist ( Special Grade)  University College Hospital, Ibadan. Recently he served as Commissioner/ Chief Executive officer, Ministry of Health and member of Abia State Executive Council (August 2010- May 2015)
He graduated with MBBS degree in Medicine/Surgery (1995) and Masters  degree in Epidemiology and Biostatistics from the University of Ibadan;  Diploma in Bioethics, West African Bioethics centre, Ibadan, Certificate in Epidemiology and Global Health, University of Dundee, UK. He has also completed a PhD programme in Medicine/Cardiology at the University of the Witwatersrand, South Africa.
In 1998, Dr Ogah commenced his postgraduate residency training in Medicine/Cardiology at the University College Hospital Ibadan which he completed in 2004. His postgraduate training in Internal Medicine/ Cardiology took him to  institutions such as king's College Hospital in London and the Heart Centre in Leipzig, Germany.
He has authored or co-authored over 90 publications in learned national and international medical journals and has presented or co-presented  over 80 papers in local and international scientific conferences.  He has received several local and international awards, fellowships and scholarships. 
He is also a member of several organizations such as the Nigerian Medical association, Medical and dental Consultants of Nigeria, Nigerian Cardiac Society and the pan African Society of Cardiology.
He a Fellow of the West African College of Physicians, American College of Physicians, European Society of Cardiology , International Society of Cardiology and American College of Cardiology. 
Dr Ogah has been involved in major cardiovascular research in sub-Saharan Africa in recent times such as: The Sub-Saharan Africa Survey of Heart Failure- THESUS_H; RELY Atrial Fibrillation (AF) Registry: Risk Factors, Treatments and Outcomes for Emergency Department Patients with Atrial Fibrillation in Multiple Regions of the World;  Importance of Conventional and Emerging Risk Factors for Stroke in Different Regions of the World and in Different Ethnic Groups (INTERSTROKE STUDY);  A Pilot Trial of Adjunctive Prednisone and Mycobacterium w Immunotherapy in Tuberculous Pericarditis (IMPI); A prospective, placebo-controlled, double-blind, randomized Study to compare treatment with hydralazine-isosorbide–Dinitrate (hyis) versus placebo on top of standard care in African Patients admitted with acute heart failure (ahf) and left ventricular dysfunction(BAHEF); and Investigator-initiated international registry to study the causes, treatment, outcome and barriers to care of heart failure in Africa, Asia and South America(INTERCHF)
Dr Ogah is happily married to Fisayo (nee Awoleye) and they are blessed with four children.