You are here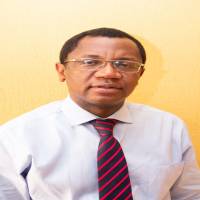 Dr Dike Ojji
Experience:
28 years 3 months
Place of Work:
University of Abuja Teaching Hospital Cardiology Unit, Department of Internal, University of Abuja Teaching Hospital, Gwagwalada
Institution Attended: University of Ibadan
Bio
Dr. Dike Ojji had his basic medical education at Nigeria's premier university, University of Ibadan, and subsequently had his postgraduate training in Internal Medicine and Cardiology at the University College Hospital, Ibadan and the Royal Brisbane and Women's Hospital, Brisbane, Australia. He is a fellow of the West African College of Physicians (WACP), American College of Physicians (ACP), European Society of Cardiology (ESC) and Nigerian Cardiac Society (NCS). He also holds a PhD in Cardiovascular Medicine from the University of Cape Town, South Africa.
He is a faculty member College of Health Sciences, University of Abuja and an Honorary Consultant Physician/Cardiologist, at University of Abuja Teaching Hospital, Gwagwalada, Abuja, Nigeria. He is also the lead investigator, Cardiovascular Research Unit, University of Abuja, Co-Chair, Pan-African Society of Cardiology (PASCAR) Hypertension Task Force and member scientific committee of World Heart Federation.
Dr Ojji is an Examiner to the West African College of Physicians at both Membership and Fellowship levels, and examines both Masters and PhD thesis at Department of Medicine, University of Cape Town.
He is a reviewer to a number of peer-reviewed journals including Circulation, European Journal of Heart Failure, Journal Clinical Hypertension, Nigerian Journal of Cardiology, BMJ Open Access and Medicine Insight: Cardiology.
His areas of interest include pharmacotherapy of hypertension in Black Africans, and spectrum of hypertensive heart disease and hypertensive heart failure in Black Africans. He recently led the CREOLE (Comparison of Three Combination Therapies in Lowering Blood Pressure in Black Africans) study which was a multi-centre, multinational, randomised trial in 10 sites in 6 sub Saharan African Countries with the main result of this study presented at a 'Late Breaking Clinical Trial Session' during the 2019 American College of Cardiology Congress, and published simultaneously in the New England Journal of Medicine.
He led the 13 city hypertension study (observational programme that assessed blood pressure control and tolerability of perindopril- amlodipine fixed dose combination with or without diuretics in Nigerian Hypertensive patients) and the Nebivolol Study (which assessed the efficacy and tolerability of the highly selective beta-1 agent, Nebivolol in Nigerian hypertensive patients). Dr Ojji has also been involved in a number of multinational observational and clinical trials including the RELY AF Study, the THESUS Heart Failure study, the IMPI study, the BAEFT study, the REMEDY study, the INTERCHF Study and ECHO Normal Study, as site principal investigator.
He has over 74 publications in peer reviewed journals including NEJM, JAMA, Lancet, Circulation, European Heart Journal and European Journal of Heart Failure.
He is married to Olubunmi Ojji and they are blessed with two children. He enjoys spending time with his family.