The Nigerian Medical Association (NMA) Lagos State Chapter on the 30th of January 2019, held a Health and Social Welfare Debate for the Gubernatorial Candidates for the upcoming Lagos state Governorship election.
Amongst the 10 governorship aspirants expected, 8 showed up. They include Babatunde Gbadamosi of ADP, Francis Adebayo of ANN, High Chief Owolabi Salis of AD, Adebisi Ogunsanya of YPP, Dr. Sam Anyamele of UDP, Venerable Funsho Awe of NCP, Oluwaseun Ajireloja of AAC, and Dr. Seun Musa of ANDP. Absentees includes: Mr. Jimi Agbaje of PDP and Mr. Babatunde Sanwo-Olu of APC.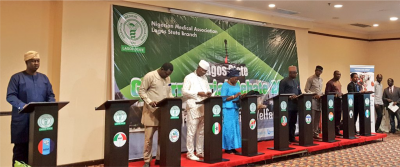 Then event was held at Sheraton Hotel, Maryland, Lagos. The aim of the event was to find out their plans towards achieving Universal Health Coverage for residents of Lagos State and Advancement of Sustainable Development Goals.
The event started at 6:00pm with the National Anthem followed by the opening speech by the Chairman N.M.A Lagos, Dr. Saliu Oseni. In his opening remark, he said "it has become important to create a platform for gubernatorial candidates to unveil their health and welfare plans for the people of the state." He said the debate was also to critically look into issue concerning accessibility, availability, quality and affordability of healthcare in the state and for their aspirants to reveal their agenda concerning these issues.
The debate was moderated by Dr. Funke Oluwole and the panelist at the debate were: Dr. Tunji Akintade, Dr. Rotimi Coker, Dr. Shokpeku Itakpe, and Mrs. Njide Ndili.
During first two rounds of the debate, candidates were given two minutes to state their healthcare plans for the state, as it relates to attaining universal healthcare in the state, in disease control and affordable healthcare plans irrespective of financial status. During the last round of the debate, candidates were given one minutes to wrap up and re-emphasize on what they had to offer Lagosians as it relates to healthcare delivery.
The candidate of the Alliance for Democracy, Owolabi Salis said that the key of his plans was to focus on the less privilege people of Lagos State because he does not believe the rich people have problem with their health. This was because they could afford to buy private medical practices and fly themselves abroad. Rather, if elected as the governor, he would focus on the less privilege, and set up an executive council to address the healthcare and welfare of the less privilege. Click to watch video.
Oluwaseun Ajireloja of AAC stated that there exists injustice towards the health sector in Lagos State which needs to be stopped. He added that he could guarantee better healthcare for Lagosians to enjoy.Click to watch video.
The candidate of the National Conscience Party (NCP), Funso Awe, said that his main intention were to upgrade health service in Lagos and what we consider as the primary health centers will be upgraded to what we consider the secondary health center, and this will serve as the barest minimum quality of health delivery. The tertiary institutions in Lagos like LASUTH will be the equivalent of the secondary health institution in Lagos. He assured Lagosians that during his four (4) years in government, he will build state of the art hospitals where nobody will need to travel out of the country for healthcare service and health personnels in Lagos will have the best time of their lives when he comes to government. Click to to watch video.  
The Candidate of YPP, Mrs. Adebisi Ogunsanya said that she will encourage healthcare personnel to work in rural areas by giving them added incentives. She also plans to provide medical versions of Uber, Keke and Okada for easy transportations of Lagosians to the hospitals.
Dr. Sam Anyamele of UDP said that the health sector was the most important sector in any community. He said "once the people are healthy they can work, once they can work, the community can make money. That is why the UDP insist that once they get into power, the 1% consolidated funds will have to be increased to 5%." Click to watch video.
In an interview with Dr. Omowunmi Bakare, President of Medical Women Association of Nigeria, she stated that she wants anyone that emerges as the governor of Lagos state to take women and children health as a priority. Click to watch video.
Also in Dokilink's interview with Dr. Benjamin Olowojebutu, Chairman Local Organizing Committee of the debate and also the NMA secretary of Lagos state, he said that NMA had left the era of activism and strike and were beginning to be part of policy making that is driven by love and compassion for the unreached in Lagos state and NMA Lagos is on the trail for good governance.
Watch more highlights and Interviews of NMA Lagos Gubernatorial Debate on all our social media pages, including YouTube @dokilink.