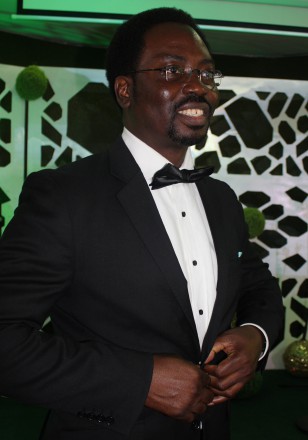 What would you describe as your guiding principle?
From my early years , my aim has been to achieve the highest possible level of professional competence as a surgeon and physician and to also be involved in postgraduate training and research. That has been my guiding principle. I am not one of those that believe that because you live in Africa, you can't offer the best possible to your patients.
What would you describe as your greatest challenge?
Sincerely, it is the organization of the society. You need an organized society to back up things you do. For instance you need power supply. For one of our laser equipment, you need to run the air conditioners 24 hrs a day and 7 days a week because of the temperature here. So you can imagine how much it costs just to maintain that equipment. Also, if you have a lift in your hospital (like in ours), you need to put a UPS (Uninterrupted Power Supply) on your lift. You can imagine if the light goes off and your patient is stranded in the lift; someone who cannot see well and is in an environment he/she is not familiar with. The patient may just lose all of his/her sight completely. I see patients with HIV and immune disorders. Because of their depressed immunity, they develop complications like CMV (cytomegalovirus) retinitis. There are so many useful medications that can help them, but this depends on availability. In some developing countries, the government helps them to negotiate to make these medications available at affordable prices. But many things are just left on auto pilot in Nigeria; so people fill in the vacuum any way they like. That is why you see some focused and intelligent Nigerian doctors who are probably average when they were around but when they travel out of the country; they get to be top notch. This is because a lot of all these distractions are not there. But that doesn't mean I don't like Nigeria. I like Nigeria. I opted to come back to this country
What would you describe as your greatest achievement so far?
For me it will be achieving a certain level of surgical competence. There are some disorders which a few years back you will just ask the patient to go back home and just go blind quietly and take it as his/her fate; but today there are a whole lot of things that we can do and so achieving some of those professional competence level is something I cherish and value. One of my most memorable surgeries was done for a Nigerian Air Force pilot who had an accident and developed vitreous hemorrhage and a localized retinal detachment. His vision was hand movement at presentation but a year after the 2 (two) surgeries I did for him, his vision was back at 6/6. He has since resumed flying.
What are your plans going forward?
Like I said my main focus is the profession. Every day, the ophthalmology profession is moving at a rapid rate. I want to be able to be at the peak of professional competence. I am not thinking of being the best in Nigeria. I am saying to be among the best in the world - at the peak of professional competence. That has a lot of advantages because you are able to bring treatment modality to patients. A lot of people go all over the world trying to find treatment. Let's talk about cataract surgery and we are doing ECC (Endothelial Cell Count) for a patient. They can go to the UK or US to get a Phacoemulsification done. They Google the address, pack their bags and go there. So we must be able to equally offer our people what can give them the best of outcomes. That is where I find my fulfillment. In the next few years I will like to see myself still being at the top of professional competence and at least be one of the leaders of thought in my profession.
What is your opinion about medical tourism?
The world is a global village and you can't stop people from seeking out the best options for their health. If you have someone close to you, you will want that person to get the best. We can't keep our people down because the doctors are not where they should be. Having said that, the government also needs to put things in place. The leaders of the profession also need to sit down and put things in place to ensure that doctors will be where they should be. Right now, people talk a lot about people going out of the country to seek medical care, but we have to realize that in some specialties, there are a lot of people flying in to Nigeria to come and see a professional; and these are Nigerian medical doctors who have gotten to a level of professional competence. We receive referrals from Ghana, Cameroon and all through the West African coast. We are not where we should be. We definitely can be better and in fact we want to be better. We all have our parts to play. It is the work of the government to protect its own people. The government shouldn't be making policies and saying that people should go out. At a time, I heard it was easier for a patient to go out of the country to get treatment and get paid for it, than staying in the country. I learnt one of the telecommunication companies is partnering with some hospitals abroad in a certain country where Nigerians like to go and they will say talk to a doctor on the phone. So if you have any problem, use that line and talk to a doctor. When you talk to the doctor, I can assure you, that at the end of the day the reason for all these, is to ask you to come over to his country. That is the end. They bring in some people from other countries, they house them, keep them, feed them, give them cars. Those ones operate in a particular state in Nigeria. They brought a lot of people from one of the developing countries. Those ones run all the surgeries. Five years from now, if you continue this way, you won't find a new surgeon in that state that knows how to do surgery because these foreigners will finish all the cases and send any complications to their country. There is no country where the government supports foreign medical trips over their local. If you see your people are deficient in some places, send them for training and create an atmosphere for them to be better. When they come back, they will train others. The first generation may not be excellent, but the second generation will be better and the third one will be even better. Americans go to Europe to learn some procedures that started and were perfected in Europe. Europeans also go to America to learn some procedures that started and were perfected In America. It will continue to be like that but you will never hear European government saying rather than see our own doctor, go to America. They will never do that. They will support their people, give them training and help them to develop. In summary, people should be able to access care where ever they want i.e. as an individual you can put your hand in your pocket and go, but the policy of the Government must be in support of developing the sector locally. Once you kill medicine, you may think you are killing the doctors but you are killing the populace. If someone has status asthmaticus, let him be the richest human being on earth, if he doesn't have the emergency care, he will die before the air ambulance can get him out of the country.
What is your advice to young and upcoming doctors?
You should desire to be the best you can be, have a focus, have a dream, keep the dream alive, believe in yourself and believe in God. It is quite surprising to me when I look back; time runs very fast. I left school about 21yrs ago, before you know what is happening you are one of the old guys. Now it's tough for people to get places to do their house job not to talk of residency training. I heard about a cousin looking for house job for 5 months. The population is increasing and the competition is getting much stiffer. They shouldn't be disenchanted. Am a product of one of the first private sector residency training program in Nigeria by Eye Foundation Hospital and when we trained here, we were supposed to be affiliated with a number of institutions which eventually did not pull through. In all those years, I had the conviction that I will have my opportunity one day and when my opportunity comes, I will show what I am made of. Sometimes it felt like we were going nowhere, we just kept working hard and then the opportunity came one day. We were able to sit for some exams and we passed. We were then able to do our clinical attachments in the UK and passed the exams. There is nothing we didn't go through, but we faced the challenges. As things are getting tougher, more opportunities are opening up. There are so many specialties now in medicine that didn't exist before and many specialties have been broken down. Just work hard and believe in God for the best.