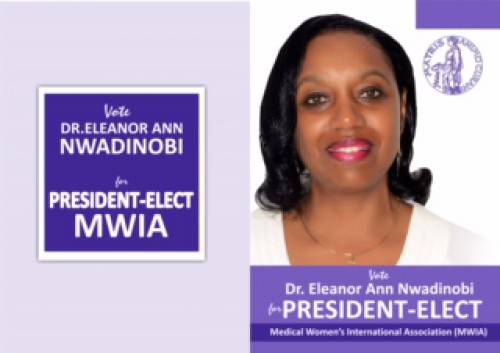 Every three years, the Medical Women's International Association holds its triennial international congress to which Nigeria usually sends delegates. The next MWIA international congress holding in Vienna,  Austria this July, is very important to the Medical Women's Association of Nigeria as a Nigerian Medical Woman, Dr. Eleanor Nwadinobi is vying for the position of International President-Elect. If elected she will become the Centenary President in 2019 (when the International Association becomes 100 years) of an International Women's Association of a prestigious profession. 
"One Heartbeat. One  Purpose. One Voice.
Standing together for Global Women's Health"
Dr Eleanor  Ann Nwadinobi
PROPOSED PLAN
My proposed theme for the triennium will be "Re-positioning to lead in women's health advocacy and influence". By maximising our comparative advantage, MWIA will in effect take the lead in influencing issues regarding women's health. It means working with the MWIA team towards prioritising areas such as: 
Taking our rightful place as leaders in women's health advocacy and influence 
Attracting funding for more cohesive and comprehensive programming 
Ensuring social inclusion and diversity 
Mentoring young colleagues 
Actualising our motto," Matris Animo Curant" (Healing with the love of a Mother) 
Giving of our time sacrificially in the spirit of volunteerism 
Utilising social media to our advantage 
Supporting Vice Presidents to achieve more in their regions 
Documentation of the Association's growth and visibility. 
I believe that only as co-contributors towards achieving this level of relevance in women's health, can we be co- beneficiaries. I believe that we can position ourselves to move from the sidelines to the main bowl and from the spectator's seat to the race track. I believe that together we can weave an intricately intertwined tapestry of our diverse hearts, heads and voices as leaders in women's health.